Inauguration of the Memorial to 346 & 347 Squadrons
York Minster, 20th October 2011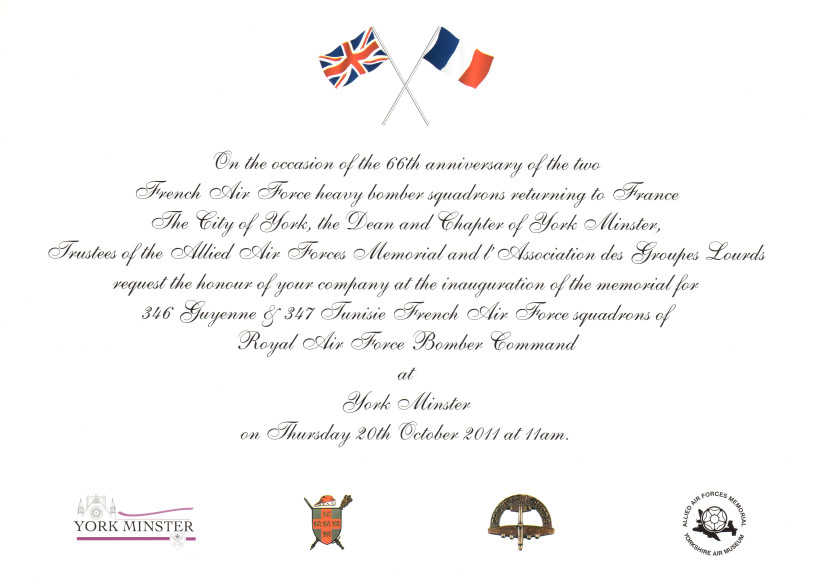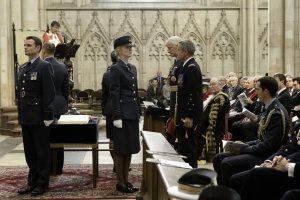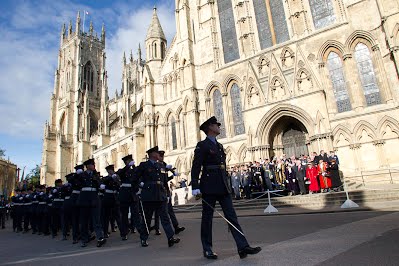 Report of the Event
[This text is taken from the Yorkshire Air Museum web page archived here, obvious spelling mistakes corrected …]
by Ian Reed on October 23, 2011
Almost 2000 people crowded into York Minster on Thursday 20th October to witness the inauguration of the French Air Force memorial to 346 & 347 Squadrons of RAF Bomber Command, formerly based at RAF Elvington from June 1944 until October 1945. The day represented the 66th anniversary of the two squadrons beginning to return to liberated France. The event was attended by the Lord Lieutenant of North Yorkshire, The French Ambassador, the right honourable Lord Mayor of York, the Sheriff of York, the High Sheriff of North Yorkshire, the Chief of the French Air Force, the Chief of the Air Staff, the Head of the French Strategic Air Force, plus defence attachés from several allied countries, and nine veterans with a contingent of over 120 French families and friends, and many hundreds of other guests and well-wishers. The ceremony was very poignant with the two Chiefs of Air Forces Turning the Page in the Minster's Book of Remembrance to two of the 216 French airmen who were killed whilst operating from Elvington. The two Chiefs also read passages from the Bible, and a wartime poem by Jules Roy (also based at Elvington) was read by Monsieur Paul Bogaert, President of the Amicale des Anciens des Groupes Lourds (French Heavy Bomber Veterans Association). In a very moving moment, Sandrine Bauchet of the Museum's French Desk said the Act of Remembrance both in French and English before the Last Post was sounded from up high in the Minster Gallery.
The Band of the Royal Air Force played within the Minster, and also headed the Parade which followed the ceremony at 12:30, accompanied by aircraft including French Rafale (in Guyenne colours); Typhoon; nine Tucanos in diamond formation; four Xingu (pygmy) French twin turboprops, and the BBMF Lancaster, flying beyond its annual programme finale for this very special occasion. The latter then banked around the Minster and gave everyone a surprise low pass at the end of the parade, as a huge French tricolour flew over the Minster on a perfect bright and sunny day.
The event at York Minster was the culmination of nine other events in four days, including the exhibition of the Museum's Hawker Hurricane complete with re-enactors, which was stationed in York City Centre for 5 days; a Remembrance Ceremony at Elvington attended by over 300 including 80 Primary School children; a major event at The Yorkshire Museum with York Philosophical Society; a French educational event at York St John University attended by over 100 local students and the premier of two of the Museum's latest films, "Flightpaths" and "Hommage aux Groupes Lourds", at City Screen.
International TV and media were at hand and many dignitaries expressed their delight at such a marvelous display of Anglo French co-operation "which only the British can do"!