A True Story of Love and War
by Barbara Harper-Nelson (link to obituary)* & Geneviève Monneris. Translated by Michel Darribehausde.
The Bright Squadrons
Published August 2014, available through Amazon (hardcover or kindle)
The French Squadrons
Paperback edition, published March 2016, also available from Amazon.
Reviewed by Yorkshire Air Museum *. "A vibrant glimpse into the past — history as it was actually lived, moment by moment" (Kate Atkinson)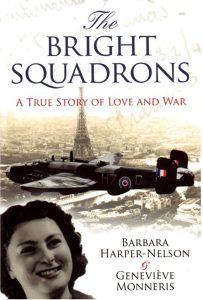 * slow links from the Internet Archive.